The Lost Colony Chapter
Franklin, North Carolina
Our society honors our Colonial Ancestors that were here in America before 1701. Our members are descended from the most extraordinary people and adventurers that ever lived. Through research and documentation, our members show that they are direct descendants from their colonial family members.
The Lost Colony Chapter is located in Franklin, North Carolina, which is about 60 miles southwest of Asheville, and was organized on October 5, 2013. Our members meet four times per year and enjoy interesting programs about colonial history. Our chapter follows the objectives of our National Society which is to fulfill the mandate of the founders to perpetuate the memory of the colonists and their lasting legacy of virtue, courage and patriotism that are the foundations of the character of this great nation.
Our chapter is named for The Lost Colony of Roanoke Island. On July 22, 1587, ninety men, seventeen women, and nine children from England landed on Roanoke Island. The people were recruited by Sir Walter Raleigh — whose brother had been granted a charter by Queen Elizabeth I to colonize America. Among the settlers were Governor John White, his pregnant daughter, Eleanor Dare, with her husband, Ananias Dare, and Native American Croatan Chief Manteo. On August 18, 1587, Eleanor Dare gave birth to a daughter named Virginia, who is considered the first English child born in America.
Ten days later John White departed for England to get supplies. Three years later he returned to find the settlement deserted. He found the single word "croatoan" carved into a fence post and "Cro" carved on a nearby tree. John White took that sign to mean the colony moved inland to Croatoan where Chief Manteo lived with his people.
Before White could test his theory a great hurricane arose damaging his ships and forcing him back to England. Despite trying to raise more money to make another trip to America, he never made it and gave up his hope of a settlement.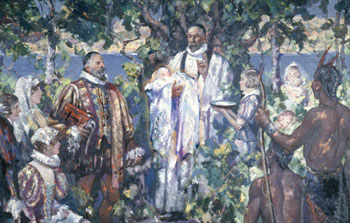 Depiction of the baptism of Virginia Dare, born August 1587, in the Roanoke Colony of what is now North Carolina. (Photo courtesy of the State Archives of North Carolina)
Depiction of John White finding the word "croatoan" carved in fence post. (Photo from Wikimedia Commons)