Thomas Wotton, Surgeon Chapter
Mount Olive, North Carolina
On February 22, 1977, at the home of Mrs. Robert P. Holmes, II, in Mt. Olive, North Carolina, a group of ladies met to plan and discuss the possibility of organizing a chapter. The name "Thomas Wotton, Surgeon" was chosen as the chapter's name. Wotton was a surgeon who came to Jamestown, Virginia, in 1607. The chapter uses his spelling of the name, though in our area it is now spelled Wooten.
On April 10,1979, the charter was presented  to the chapter. The Thomas Wotton, Surgeon Chapter was hostess for the State Conference in 1986, 2006, and 2015. The chapter has been well represented with members serving in state officer positions. A plaque commemorating Cornwallis' passage through this area was placed in 2011.
The chapter has 27 members and one associate member. Members are from Craven, Duplin, Greene, Lenoir, Pitt, Sampson, Wayne and Wilson Counties. The chapter meets quarterly at noon, on the second Tuesday of February, May, September, and November. We welcome new members, please inquire about visiting our chapter.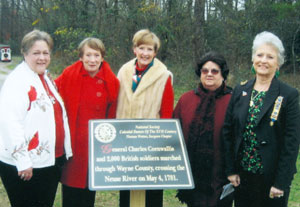 Plaque placed in 2011, by the Thomas Wotton, Surgeon Chapter commemorating Cornwallis' passage through Wayne County. (Photos from chapter archives)